Have you been eyeing that little chiminea near the entrance of your local grocery store? It's kind of appealing because maybe, like me, you LOVE going camping without actually going camping, or even backing out of the driveway.
But you're not sure. You have questions about safety and fuel. And whether you'd really enjoy using it. And besides, one side of the box is crushed and the door is barely hanging on by a single hinge.
Points to Consider
Are you a little impatient? Love books on accelerated learning? Prefer fast food to slow food? No judgment. Just wondering.
My caveat for you is that outdoor clay fireplaces take a little time and effort to warm up. And cast iron needs occasional maintenance. But I'm not trying to dissuade you here. In fact, you might actually do yourself a huge favor by getting a chiminea for your backyard. Paradoxically, they're like a toasty little "chill pill."
Crave the comfort and connection of spending time with with friends 'round the fire? Me, too. Along with beauty and ritual and solitude—-and time outdoors. A little chiminea enriches these experiences, and often prompts spontaneity.
But you should know more about the practical aspects of making a three-figure purchase before clicking the Submit button. Materials, features, proper care and usage. And that's what I'm talking about here today. Along with some excellent product recommendations.
I've owned many types of outdoor fireplaces and chimineas over the past 20-plus years. I never tire of them. I'm always checking out new innovations or brands, design tweaks, improved materials, artisan methods and craftsmanship. It's a near-obsession, perhaps driven by my comfort-seeking side.
The Pros and Cons of Owning a Traditional Clay Chiminea
Weighs somewhat less than cast iron, but can still be pretty heavy depending on size. Easier to tilt when scooping out ashes.
Rustic and charming, "soft on the eye," mingles nicely in a backyard setting of bricks, grass, trees, and plants.
NO ASSEMBLY
To my eye, a small clay chiminea doesn't look as small as one made of cast iron or cast aluminum—-in case you're working with a small patio, and scale is a design concern
You can use them for cooking with the right woods and a grilling insert
Often delicate. Usually requires "seasoning" and warmup, sensitive to freezing temps and rain
CAN BE TRICKY TO FIND A GOOD, HANDMADE, MEXICAN FIREPLACE
I've noticed in recent years a sort of knee-jerk reaction to the idea of buying a clay chiminea.  "It's mass-produced junk, a waste of money, etc."  And you can find an awful lot of poorly produced clay chimineas out there. 
Many of the ones sold at grocery stores are factory-produced, and have both material and structural flaws that get patched up for quick shipping and cost effectiveness.
But there are some beautifully crafted, artisan-quality, clay chimineas available, too. And this is what you should look for if you decide you want clay.
You'll have much better luck with authentic, handmade, Mexican chimineas, designed with just one wide opening in the fire chamber, and a wide flue. This creates more efficient burning, proper drafting, and keeps smoke to a minimum.
And if you can find a chiminea made of Chimalin, like Gardeco's Sempra below, then you've got an excellent product, AND a shortcut to easier use and care.
You might have to go to a local, independent garden shop, and talk with the staff about how they source their terracotta products. It's worth the effort, and you don't need to spend a fortune to have something safe, reliable, and absolutely beautiful.
HERE'S WHAT I RECOMMEND IN A CLAY CHIMINEA
If you're shopping online, there aren't a lot of sources for handmade, authentic, good-quality, clay chimineas. There's a GREAT little Mexican clay chiminea from Gardeco—-called the Sempra. Last year, I found one at Wayfair USA that has since disappeared from inventory, with no current estimate of a re-stock date.
But if you're in the UK, I found the Sempra at Wayfair UK, in a classic, dark green glaze. I also found it at another UK website in four different glaze colours. All beautiful. Jump to UK links here.
So why the Sempra? The Sempra is made of Chimalin AFC (Advanced Fire Clay), a special clay mixture that's resistant to thermal cracking. It has a 5-year warranty. Burns charcoal or any type of wood. It doesn't require "seasoning." And doesn't need an insulating layer of sand or a warm-up period. So if you can find it, look for the Chimalin AFC sticker when you're shopping.
If you're in the USA, I recommend two BEAUTIFUL Gardeco chimineas at Wayfair USA. They do NOT have the Chimalin AFC trademark, which is unique to Gardeco. But they are both of high quality, and are handmade by craftsmen in Mexico.
Please follow my usage guidelines for these two chimineas to prevent thermal cracking. It's not complicated, really. But it's different from caring for the Sempra, which actually is made of Chimalin. I was hoping the missing Chimalin trademark was an oversight, but after reading the owner's PDFs for all three of these clay fireplaces, I do not believe that it is.
So have a look, and see if one of these is right for you…
#1 Dark and Rustic. Gardeco's Linea Xl Mexican Clay Wood Burning Chiminea
WHAT'S NOTEWORTHY
Handmade by artisans in Mexico
Not the usual "Sunburst and Lizards" design motif
Designed for efficient burning and proper drafting (less smoke)
Includes coated steel stand and clay lid for flue
Beautiful, textured, rustic look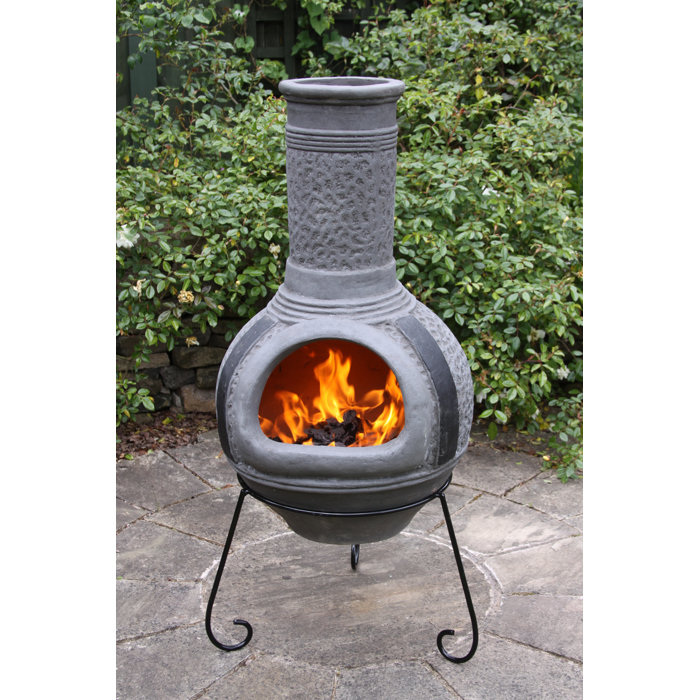 What I Love
Rustic, textured surface and grey color make this little chiminea look somewhat like cast iron. Its stately good looks would work beautifully in either a cottage-style backyard or a more structured landscape design. High quality. Handmade in Mexico by clay artisans.
Both the metal stand and a matching rain lid are included.
This is the perfect compromise if you love the look of cast iron, but want to save a few dollars and go with a clay fireplace.
No assembly required. Simply place the Linea XI chiminea on its coated steel stand.
A dealbreaker for you..?
The Linea XI chiminea weighs 62 lbs. Plan to have help when it arrives if this is more than you can lift or move.
I'm not crazy about the steel stand. It's adequate but it reads as "light." Wayfair does sell the stand separately if you think you might want an extra.
Burns wood or pressed wood that does not contain waxes or resins. Not for use with charcoal.
OVERALL DIMENSIONS, WITH STAND: 49.2 H x 19.7 W x 19.7 D INCHES
FIRE CHAMBER OPENING: 9.842 W x 7.874 H INCHES
INSIDE DIAMETER OF FLUE: 6.299 INCHES
WEIGHS 62 LBS
The Linea XI is also available at Wayfair's Canada website here.
Prefer the classic look and color of terracotta, instead..??
#2 Simple and Classic. Gardeco's Skoog Clay Wood Burning Chiminea
WHAT'S NOTEWORTHY
Handmade by artisans in Mexico
Simple, high-quality, authentic design in a natural terracotta color
Designed for efficient burning and proper drafting (less smoke)
Includes coated steel stand and clay lid for flue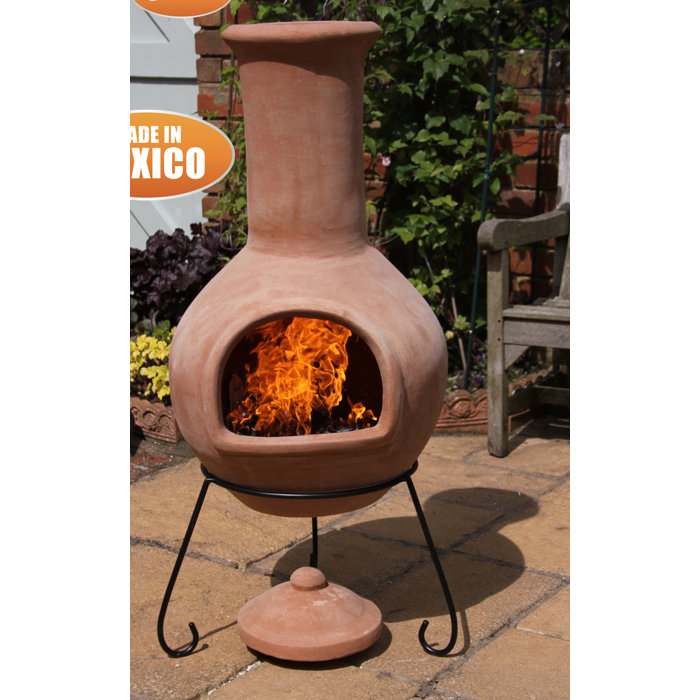 What I Love
Seriously, how can you go wrong with the Skoog? It's the Little Black Dress of chimineas. Works just about anywhere. Are you a minimalist? Look no further. Are you a maximalist? Okay, but sometimes there are so many "high notes" in a space that you need an element of simplicity to tone things down. So put Gardeco's Skoog on your short list. It's an authentic, handmade Mexican chiminea, designed for proper drafting and less smoke. Get it delivered right to your doorstep!
Currently available in two sizes.
A dealbreaker for you..?
Again, the coated steel stand is kind of meh. Not a dealbreaker for me, but there's room for improvement, shall we say. Wayfair does sell the stand separately if you think you might want an extra.
Burns wood or pressed wood that does not contain waxes or resins. Don't try burning charcoal in the Skoog.
CURRENTLY AVAILABLE IN TWO SIZES

OVERALL DIMENSIONS IN INCHES: 43.31 H x 17.72 W x 17.72 D
OVERALL DIMENSIONS IN INCHES: 49.21 H x 21.65 W x 21.65 D
So where do you want to go from here??
You want to know more about the proper use and care of clay chimineas—-read my guidelines based on decades of ownership.
You're done with clay for now, and want to jump to the section on metal chimineas.
For UK Shoppers – Gardeco's Sempra Charcoal & Wood Burning Chiminea
WHAT'S NOTEWORTHY
Made of Chimalin AFC (Advanced Fire Clay)
Resistant to thermal shock
5-year warranty against thermal cracking
Burns charcoal or any type of wood
Larger fires will not over-fire the clay
Initial "seasoning" or curing not required
Classic shape designed for efficient burning, proper draughting, and less smoke
Classic green glaze that is durable and hard—won't burn off.
Authentic, and artisan-made in Mexico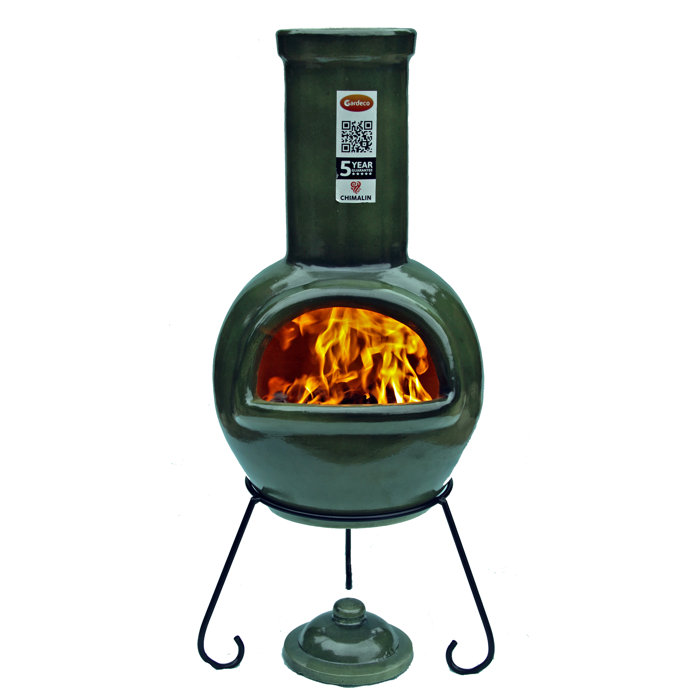 What I Love
I love EVERYTHING about this little fireplace! You're so lucky to have available to you an artisan-crafted, Mexican chiminea made of Chimalin AFC. The glaze is hard and durable—-it won't burn off. And the deep "hunter green" colour would be lovely in almost any setting—-modern terrace, lush courtyard, or cottage garden.
But if you want a different colour, try this online UK store instead. (I'm not affiliated with them, so no additional pics here, sorry.)
The Sempra includes a coated steel stand and a matching rain lid for the flue.
A dealbreaker for you..?
Did I mention that I don't care much for the stand? It's visually "lightweight." Tolerable, with room for improvement.
OVERALL DIMENSIONS: 105cm H x 43.6cm W x 43.6cm D
WEIGHT: 27 kg
I'm not sure what else you could ask for in a little clay fireplace!
The Pros and Cons of Cast Iron Chimineas
VERY beautiful
Can be heavy
Not sensitive to freezing temperatures
Can burn any type of wood or charcoal in it
No warmup period required
Durable and long lasting
Weight makes it an unlikely target of thieves
Requires regular maintenance
Tendency to rust
The most obvious advantage of an iron chiminea is that it's not as sensitive as clay, so if you tend to be heavy-handed, this might be just your kind of thing. You can perform a log toss or practice your drum solo on its fire chamber. Stoke it with manufactured logs, charcoal, or that big branch that fell from the neighbor's tree onto your newly restored vintage bike.
As with clay, it's a good idea to "season" the interior with a few small kindling fires, but you don't really need to warm it up for subsequent uses. Freezing temperatures are not an issue. Big fires are not an issue but remember, early humans mastered fire almost two million years ago, so stick with the program and don't let yours get out of control.
Cast iron chimineas have a graceful, solid, well-established look that really says "home." Maybe because they're quite heavy. Then again, you're not likely to wake up and find that your chiminea has quietly "gone missing" overnight.
You'll likely pay more for a high quality cast iron chiminea (vs. clay), but you want something of good quality because you're dealing with fire here. It's not the place for flimsy sheet metal construction, ill-fitted rivets or sharp edges.
Another potential problem with cast iron, if this sort of thing bothers you, is rust. Even if you cover it, and haul it out of the weather on rainy days, it will develop some rust. Although at a much slower rate if you live in a dry climate. And, of course, you can minimize this issue with regular maintenance.
Here's What I Recommend in a Cast Iron Chiminea
All that said, if you're going for the unmatched beauty of an authentic cast iron fireplace, then go for the best quality and have a look at The Blue Rooster's line of Cast Iron Outdoor Chimineas. The Garden style and the Venetian are both gorgeous, well-crafted fireplaces.
All of the Blue Rooster's chimineas:
Are designed for proper drafting, and burn with little or no smoke. Your neighbors will thank you.
Have carry handles and a cast iron grilling insert.
Are backed by The Blue Rooster's commitment to top quality and customer service.
The medium-size Garden style is quirky, impressive, and FUN! Kids love this one, and it's very appealing in an eclectic backyard setting. It's also functional and versatile, being designed for use as a fireplace, grill, and oven.  You can even bake pizza or bread in it—what's not to love?   At 44 inches high, it's medium sized.   Cast iron, 44 x 22 inches, approx. 172 lbs. 
The stately, elegant Venetian style is larger at 52 inches high, but if you've got the space for it, it's worthy of consideration.  It, too, is very functional and versatile, and can be used as a fireplace, grill, and oven.  It would add a graceful note to pizza night, and it can bake bread, as well.  Oh the possibilities!   Cast iron, 52 x 22 inches, approx. 200 lbs.
But, no worries, there is a low maintenance solution to the conundrum of really wanting a cast iron chiminea, without the regular maintenance and potential for rust…
LOW-MAINTENANCE ALTERNATIVE to CAST IRON
I wholeheartedly recommend the solid Cast Aluminum Outdoor Fireplace from The Blue Rooster as a low-maintenance alternative to cast iron. And here are ten reasons why…
It has the look of cast iron.
It's not as heavy as cast iron.
It's made of solid cast aluminum, not sheet metal.
It won't rust the way cast iron does.
It's durable and long lasting.
Like all Blue Rooster fireplaces, it's designed for proper drafting, and burns with little or no smoke.
It has carry handles to make moving it around the yard easier.
It comes with a small cast iron grilling insert.
It's available in a range of finishes and styles.
The Blue Rooster has been in business since 1997, and they pride themselves on excellent quality, proper design, and exceptional customer service.
The simple and compact Etruscan style is the perfect focal point for a small patio.  It can hold a 10-inch log (barely) and, at just 29 inches tall, it's small enough to carry inside on rainy days and fill with candles. Cast aluminum, 29 x 15 inches, approx. 30 lbs.
The Jazz Era-inspired Gatsby style is a medium-size chiminea.  At 44 inches tall it can work very nicely in smallish outdoor spaces.  Its delightful, sturdy curves and generous fire chamber make this fireplace an absolute pleasure to own!  We sent the Gatsby as a wedding gift, and it's definitely a beauty. Holds logs 12 – 14 inches long. Cast aluminum, 44 x 20 inches, approx. 65 lbs.
I hope you'll have a look at Blue Rooster's products if you decide you want a metal chiminea. I'm often surprised that more people don't know about them. Great quality, nice people.
General Guidelines for Use and Care of Clay Chimineas
Still not sure whether a good clay chiminea is for you? Consider the following guidelines for enjoying and extending the life of your outdoor fireplace. (Guidelines on thermal shock and cracking do not apply to Chimalin AFC.)
Clay is more delicate and prone to thermal shock than metal chimineas. So you always want to start by filling the bottom of your new clay chiminea with an insulating layer of play sand.
You'll need to "season" or cure the interior with a small kindling fire, creating a thin layer of soot before building your first, big (not TOO big) fire. Every time you want to use your clay chiminea, you'll start by building the same kind of small fire until the exterior is warm to the touch. This also will help to prevent cracking.
Seating a clay fireplace on sloping ground or very uneven surface could create hot spots and—cracking.
The exterior still gets hot, though not as hot as metal. Don't overlook this safety aspect if you have small children or pets. Or just someone around who's a little clumsy and accident prone.
You don't have to build a huge fire to create abundant radiant heat. In fact, you never want to see flames shooting out of the top of the flue. That kind of craziness will cause the clay to become over-fired, and could lead to…? Cracking. Or worse, injury and property damage.
I fashioned a makeshift wooden poker for our old clay chiminea because I often nicked the interior when using metal pokers. Just saying.
And if you back into your clay fireplace with the lawn mower (no, it wasn't me), you'll have a good supply of clay shards for the potting bench.
When it's bedtime, always extinguish the fire with a bucket of sand, not water. Or just stir the sand layer up over the embers and place a metal spark screen (you should have one) over the front opening.
Of course, you'll need to cover and protect a clay chiminea from rain and freezing temperatures. Some of them come with a clay lid for the flue, but full covers are generally purchased separately.
All this sounds a lot worse than it really is in practice.  It becomes second nature, and part of a pleasant ritual. I actually loved using our old clay chiminea, and prefer this type of fireplace for summer evenings, when we tend to get larger crowds, and I can't keep an eye on a bigger fire.
SUMMARY – The Key Takeaways
If you love the traditional look and charm of a clay fireplace, and you don't mind pampering it a little, then I think you'll be happiest with a high quality, handmade, authentic Mexican chiminea.
Visit your local garden center and find how they source their clay fireplaces. If you're shopping online, I recommend Gardeco's Linea XI or Skoog.
If you're in the UK I recommend Gardeco's Sempra—-made of Chimalin AFC. I'll update this post if the Sempra once again becomes available online in the USA.
If what you're after is the timeless beauty of a cast iron chiminea, and you don't mind doing a little regular maintenance, then go for it—and go for the highest quality out there, The Blue Rooster Cast Iron Outdoor Fireplace.
The Garden (medium size) and the Venetian (large size) styles look very different, yet both are functional and versatile, and can function as fireplace, grill, and oven.
The Garden weighs approx. 165 lbs. at 44 inches high; the Venetian weighs approx. 200 lbs. at 52 inches high. (FYI: Both styles are available in cast iron and cast aluminum.)
If you want something durable, solid, and beautiful, with the look of cast iron but without all the maintenance, I heartily recommend a Cast Aluminum Outdoor Fireplace from The Blue Rooster.
Both the small-size Etruscan and the medium-size Gatsby styles are available in cast aluminum. The Etruscan weighs approx. 30 lbs. at 29 inches high; the Gatsby weights approx. 65 lbs at 44 inches high.
Toasted marshmallows, anyone?!?!
A Note on Woods
I recommend burning only hardwoods in a clay fireplace, or pressed logs that do not contain waxes or resins. They burn more slowly and consistently, and won't create hot spots which could lead to cracking.
Also, when shopping around for any type of outdoor fireplace, think about the size of the fire chamber in relation to your wood source.
You can order almost anything cut to any size, but if you have stacks and stacks of wood already available, consider whether you'd have to chop it down further to make it fit in a new fireplace. I actually find this kind of thing to be a superb stress reducer, but not everyone shares my enthusiasm, so you be the judge here.
I used to burn a lot of fragrant hickory wood in our clay chiminea, and noticed fewer pesky flying insects, even mosquitoes, whenever I did. Aromatic or fragrant woods are worth a shot if you get a chiminea and are plagued by flies or gnats when you're trying to relax in the backyard.
Now. After all this typing, I'm picturing you blissfully soaking up the warmth and comfort of your new chiminea. Coaxed into a few extra minutes of peace and sanity on chilly afternoons and clear summer evenings. I so love the idea. So please, do right by me and go out and get yourself a little chiminea—soon!
I hope I've been a help to you here.
Very best wishes,
Mari