Let's get right to the point. Was that you laughing uncontrollably at my article on manual and pour-over coffee makers? You don't have to answer.
I know (and love) people just like you, I must admit, in my own family. There's a certain someone who would happily download an app that makes sandwiches if one existed.
Big Innovations, Small Footprint
Fortunately, the last 15 years have seen technological leaps and bounds in home coffee makers. And the three I've reviewed here are smaller than average, saving precious countertop space in your kitchen.
So if your ideal coffee ritual involves convenience, a couple of buttons, innovative design, and a range of delicious flavor profiles, then one of these small coffee makers below has your name on it.
And don't tell anyone, but we've been complying with social distancing while occasionally "visiting" neighbors. Last week, we had a (rather lame) birthday party by dragging lawn chairs near the property line for a few minutes. We (safely) gifted the Birthday Girl with a value-pack of blue nitrile gloves and the beautiful, "refreshed" Nespresso Pixie coffee maker. I've owned the other two models reviewed here.
THE ESPRESSO AND COFFEE MAKER REVIEWS
#1 BEST OVERALL: Nespresso by DeLonghi – Vertuo Next Premium Single Cup Coffee & Espresso Maker in Black & Rose Gold
WHAT'S NOTEWORTHY
Made in Hungary
Beautiful design overhaul from previous Vertuo models
Makes both espresso and coffee with a beautiful layer of crema
Includes set of 12 assorted Nespresso capsules
Automatically adjusts brewing variables to each capsule
Wi-Fi and Bluetooth capable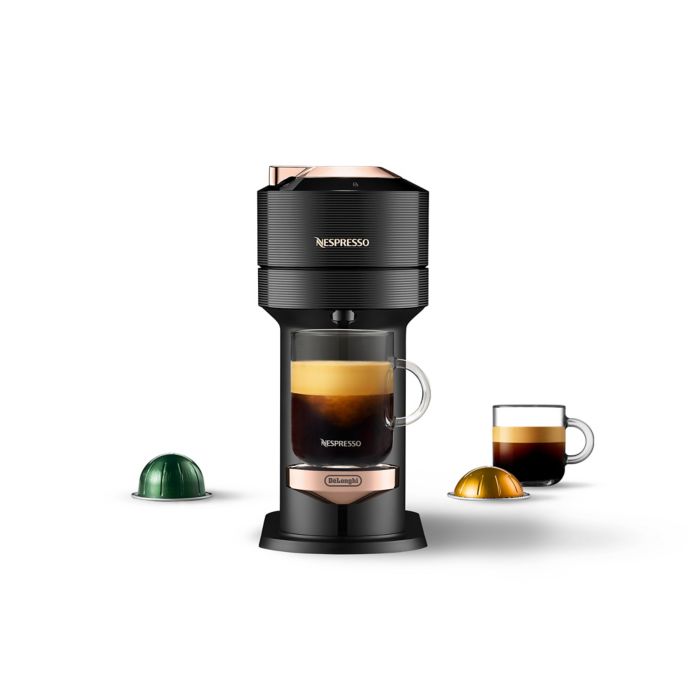 What I Love
The Vertuo Next Premium packs powerful, new functionality into a simple, elegant, understated design. If you're not much on bold, industrial-style espresso and coffee machines, then have a look at this one.
Uses Nespresso Centrifusion technology. Coffee is infused at 7,000 rpm, creating intense flavor and that much sought-after layer of crema. The used capsule contains only dry coffee grounds, the water having been spun completely out of it at that force. Pretty incredible.
The Vertuo Next Premium automatically adjusts brewing time, pressure, water volume, and temperature, depending on the capsule you're using. This is accomplished by a laser scan of the bar code under the rim of the capsule.
Water heats in 25 seconds. Brew time is 20 seconds. Auto-shutoff after 9 minutes.
WiFi and Bluetooth capable.
Relatively small size doesn't take up too much space on your countertop.
One touch brewing, and automatic capsule ejection make your morning coffee routine fast, clean, and simple.
Rose Gold accents work beautifully with a range of metal fixtures and kitchen tile or marble colors.
Great versatility. You can make single or double shot espresso. Or brew a 5-ounce, 8-ounce, or 14-ounce cup of coffee.
This is the perfect single-cup coffee maker for the minimalist who wants a premium cup of coffee at the touch of a button, while leaving virtually no mess behind.
Includes a "welcome set" of 12 assorted coffee and espresso capsules. And when you run out, you can order from a wide range of Nespresso capsules containing high-quality coffee types, origins, and styles. They're also very attractively packaged. And gift-worthy.
Nespresso capsules are made of recyclable metal. Not plastic. Container (in machine) holds a maximum of 10 ejected used capsules.
The Vertuo Next Premium coffee maker would be an excellent college graduation or housewarming gift. And—-given the strange times we're in—-it would also be a thoughtful way to let friends know you miss seeing them over coffee while we're all still stuck at home.
A dealbreaker for you..?
Although Nespresso considers the Vertuo Next Premium a small machine, I find the front-to-back measurement of almost 17 inches a tad on the "bigger" side of small. It really depends on where you plan to put your new coffee maker. It doesn't look too big on what I'd call a average-size kitchen island.
This machine makes really delicious, premium coffee and espresso with a silky layer of crema. You can make it in 20 seconds, and in the comfort of your own fuzzy slippers. But if you're looking for "upscale coffee shop" quality, you might be disappointed. That said, I was AMAZED by the results the Vertuo Next delivered. And I'm not, generally speaking, a huge fan of capsule coffee makers.
I've not tried to pair this coffee maker with the app myself, but there are complaints that the interface and process for connectivity are flawed. For what it's worth, Nespresso does have a good reputation for responsive customer support.
DIMENSIONS IN INCHES: 5.5 W x 16.8 D x 12.4 H
CORD LENGTH: 29 inches
I don't know what my problem is, but I'm drawn to Rose Gold like a moth to a flame. But if it's not your thing, the Nespresso by Breville VertuoLine Next Premium with nearly identical features is available in Black with Chrome accents. It's beautiful. AND it includes an Aeroccino milk frother, like the Pixie below.
#2 BEST COMPACT COFFEE MAKER – Nespresso® Pixie Espresso Machine by Breville® with Aeroccino Milk Frother
WHAT'S NOTEWORTHY
Made in Switzerland
"Refreshed" Pixie model with grooved metal front and sides
Makes both espresso and lungo (small coffee) with a layer of crema
Bold, industrial style in a surprisingly compact footprint
Concealed cord storage
Uses Nespresso OriginalLine capsules (not Vertuo capsules)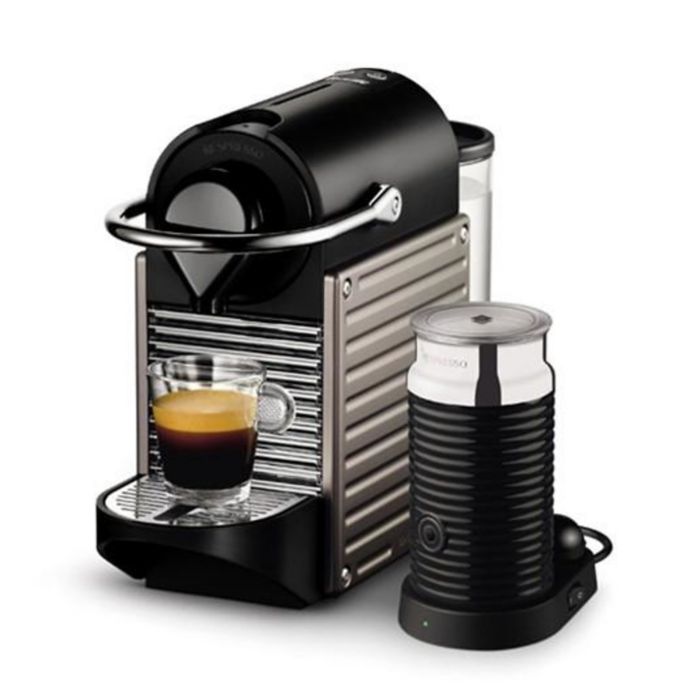 What I Love
What's not to love here? If you're design oriented, the refreshed Pixie will make you smile before you even smell the coffee. Nespresso and Breville have teamed up to perfect Euro-café style in a delightfully compact and reliable machine.
FAST 25-second heat up time. Auto-shutoff after 9 minutes. Concealed cord storage means less clutter. All GREAT functional features.
Uses Nespresso's Centrifusion technology to create a nice layer of crema. This is an advanced feature in home capsule-coffee makers.
Intuitive design. It has only two buttons. Short of hiring a barista to come over and make your coffee, it won't get any simpler.
It brews consistently delicious coffee. And it keeps brewing for years.
This is a high quality machine that is built to last. Primarily intended for home use, the Pixie would also add all-day style and refreshment to a busy downtown office.
Set includes the Aeroccino milk frother. So you can whip up hot or cold lattes and cappuccinos.
This is the perfect espresso and coffee maker if your neighborhood coffee shop is still boarded up for the COVID shutdown. You might even think you're there at the coffee bar when you see your Pixie sitting on the kitchen counter. Just don't "place your order" aloud, unless you're the only one up.
These are trying times, indeed. But don't torment yourself further—-get this trés stylish Pixie espresso and coffee maker. You'll lift your spirits, pocket a little change in the long run, and impress your inner-barista—-all at the same time.
A dealbreaker for you..?
If bold, industrial, Euro style is not for you, then please move on. The Pixie has statement looks that people either love or hate.
You might not be sipping cappuccino on the Piazza San Marco, but for capsule coffee, the Nespresso Pixie brews an INCREDIBLE cup. Really.
DIMENSIONS IN INCHES: 12.8 L x 4.4 W x 9.3 H
CORD LENGTH: 36 inches
WHAT'S NOTEWORTHY
Limited 3-year warranty
Fully programmable
Rinse feature
K-Cup compatible
Small footprint
Also dispenses hot water for tea
Auto-shutoff feature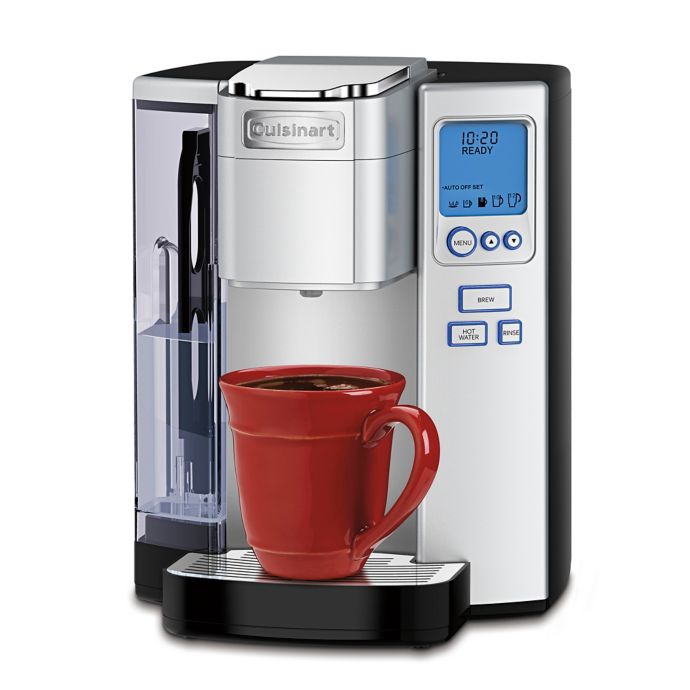 What I Love
Right off the bat, I love the sturdy, "classic Cuisinart" design. So many small, single-cup coffee makers look like toys. This one definitely adds a solid note to your kitchen's style, while using very little countertop space. And it's packed with excellent features, to boot. It's fully programmable and quite versatile for a small coffee maker.
Brews coffee in about 1 minute. There's no heat-up period.
Removable drip tray accommodates a 7.25-inch tall travel mug. Adjust the brewing temperature to XHOT so your coffee remains enjoyable as you make your way through morning traffic. And you can choose between 5 different brew sizes, from 4 to 12 ounces.
K-Cup compatibility for those of you who enjoy having Keurig's 75 different brands and seemingly endless varieties from which to choose. I'd used other capsules with this machine—but I can't remember which. We brought it to a friend's tiny beach house and left it with them. It's still working, and they still love it.
I really love the hot water feature. Sometimes a cup of tea just feels better than coffee, especially if you're not feeling well. But you could also make instant noodles or hot cocoa.
A HomeBarista™ reusable filter cup is included for use with ground coffees and loose teas.
Like the other coffee makers I've listed here, the Cuisinart Premium has a removable water reservoir. I mention it again because it's a key consideration in keeping your coffee maker squeaky clean and hygienic. This reservoir holds 2 liters or 72 ounces of water.
Rinse feature quickly cleans the interior brew chamber with the touch of a button..
Also included is a charcoal water filter. If your water tastes bad, so will your coffee.
The Cuisinart Premium is, of course, BPA-free.
This is the perfect single-cup coffee maker if you love the classic look of Cuisinart, have limited countertop space, and want a range of programmable, versatile features. Ease of use and quality build-out also make it suitable for home-entertaining or the office break room.
A dealbreaker for you..?
This might seem obvious, but some of you may never have owned a capsule coffee maker. So this machine has a 72 ounce (2L) tank, but brews only one cup at a time.
It doesn't make espresso. It doesn't brew a layer of crema.
It really is a kind of loud, if that's a potential problem in your household.
It has what I call classic Cusinart style. Not overly slick or high-tech. Buttons and knobs. Blue backlit LCD panel. I love the look of this machine, but I'm making a note of it here so you can make your best decision.
Yes, the plastic is BPA-free but there's a LOT of it. For the most part, the exterior has the "look" of stainless, with a little metal here and there. Still, it's an attractive coffee maker for the price point. Real stainless steel would cost an awful lot more.
You'll need to replace the charcoal water filter periodically. Sometimes I get tired of buying filters for so many household appliances but it does make a difference in results.
DIMENSIONS IN INCHES: 11.03 L x 9.33 W x 12.13 H
AUTHOR'S NOTE: As with any capsule coffee maker, make sure that your capsule is seated properly. Snapped in tightly. With the arrow or mark in the correct position. Otherwise, you'll get spattering during the brewing process.
SUMMARY – The Key Takeaways
If you're making a decision on one of these capsule coffee makers, the major features to consider are listed below. If you're tired of reading, here's a quick comparison table.
The Rose Gold-trimmed Vertuo Next Premium is a modern, stylish coffee maker that brews both espresso and coffee with a layer of smooth crema. It's WiFi and Bluetooth capable, and comes with a dozen assorted Nespresso coffee capsules, making it a great gift. The fast brewing process is automatically adjusted for each capsule. Holds up to 10 ejected capsules. Easy, fast, no mess. Smallish—and BEAUTIFUL!
The refreshed model of the Nespresso Pixie is the perfect coffee and espresso maker if you like the look of a Euro-café machine but want the convenience of a capsule. It's small but sturdy, and features concealed cord storage—LESS CLUTTER. Fast, easy, reliably delicious coffee and espresso with crema. Holds up to 11 ejected capsules. Aeroccino milk frother is included.
The Cuisinart Premium has the look of stainless in BPA-free plastic at a moderate price point. It's programmable, versatile, and compatible with K-Cup capsules. Brews in about 1 minute. Hot water feature and interior rinse feature make this small coffee maker a standout. Charcoal water filter included.
COMPARISON TABLE OF FEATURES
Nespresso
Vertuo Next Premium
Nespresso
Pixie (Refresh)
Cuisinart Classic
Espresso & Coffee
Espresso & Coffee
Coffee
VertuoLine capsules
OriginalLine capsules
K-Cup compatible
Auto-shutoff
Auto-shutoff
Auto-shutoff
Modern style
Industrial style
Classic style
– – – – – – – – –
Includes milk frother
– – – – – – – – –
– – – – – – – – –
– – – – – – – – –
Hot water feature
Includes 12 capsules
Includes 3 capsules
– – – – – – – – –
Plastic exterior
Aluminum exterior
Plastic exterior
5.5 W x 16.8 D x 12.4 H inches
12.8 L x 4.4 W x 9.3 H inches
11.03 L x 9.33 W x 12.13 H inches
Black & Rose Gold
Silver & Titan (black)
Stainless Look
Good luck with your quest for a new coffee maker! I'd perish without coffee and tea throughout the day and early evening. Seriously. I love the ritual, the comfort, the conversation (sometimes), the "aroma therapy" and delightful flavor profiles. And I'd love for you to enjoy the same—so I hope you find THE perfect coffee maker, and I hope I've been helpful to you here!
Stay well out there,
Mari