Well, they're almost here. Love them or hate them, Thanksgiving and the Holidays are just around the corner. I couldn't be happier! Truly.
One way to reduce the stress of Holiday entertaining is to serve just cocktails and small plates or hors d'oeuvres informally. And save the "heavy lifting" of a full-course dinner for just one or two parties.
This can save you LOTS of time, and there's a little less planning. But one of the oft-overlooked details of successful entertaining is having enough "good ice."
As a general rule, you should have about 1 to 2 lbs. of ice per guest, depending on the type of entertaining you're doing. If you're filling coolers for a tailgating party or picnic, you'll need more.
Last Holiday Season, we blew through a dozen 10-lb. bags of ice in a single evening. And not surprisingly, over a third of it was used at the kids' mocktail table.
If you've never run out of ice smack in the middle of one of your epic, blast-tastic parties—-especially during the Holidays—-I'm here to tell you that it can make things fall flat VERY quickly.
Sure, you can track down the 3 people who need to move their cars, and then hurry over to the convenience store in your cocktail dress or your reindeer vest. But why? When you can now make beautiful, cocktail-worthy ice in the comfort of your own little home with the Scotsman Gourmet Ice Machine.
It sounds cool because it really is! So let's have a look at how you can take another element of stress out of entertaining—-for the Holiday Season or any time of year.
WHAT'S NOTEWORTHY:
This Scotsman model produces "gourmet ice," which is beautiful, crystal-clear ice that's shaped like a little top hat.
Gourmet ice is slow-melting, odorless, mineral-free, taste-free ice, and is preferred for serving whiskey, bourbon, and scotch, and craft spirits.
Gourmet ice is also a great all-round ice for entertaining and everyday sodas or drinks.
This model is UL approved for outdoor use. 100° F maximum. 50° F minimum. (38° max,. 10° C min.)
Compact size at only 15 inches wide.
Built-in pump.
One year parts and labor manufacturer's warranty.
Made in America.
Energy Star rated.
This is a small commercial machine that produces up to 65 lbs (29.5 kg) of clear ice in 24 hrs.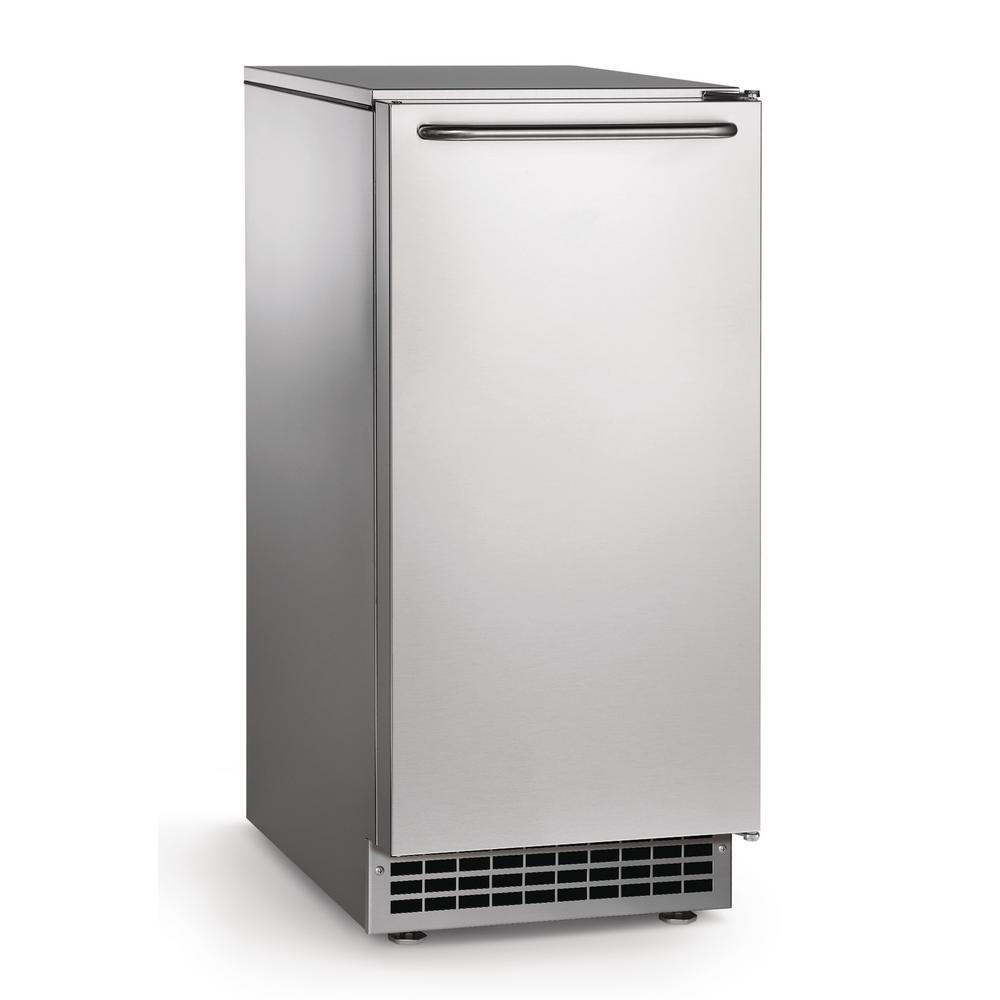 What I Love:
This Scotsman produces safe, beautiful, taste-free, odorless ice that's as clear as glass.. Preferred for serving spirits, it works superbly in cocktails and sodas, as well
This ice maker will keep pace with your needs at huge Holiday gatherings, backyard barbecues, birthday parties, and the arrival of unexpected guests. Even the kids won't outstrip its production capacity of 65 lbs. (29.5 kg) per 24 hours.
For meals, guests, buffets, and bar carts, you've got to have something clear and presentable. Those little white "sea slugs" produced by most countertop ice makers simply won't do—-unless you're still living in the dorm or you're at a summer cabin rental.
Cube size is about 1.25 inches high and 1.25 inches in diameter, in a very attractive "top hat" shape.
Water-quality sensors help to reduce limescale buildup and extend the time between cleanings.
Interior bin holds up to 26 lbs. (11.8 kg) of ice.
Beautiful stainless steel construction. Right-angle plug (NEMA 5-15P) allows you to install the ice maker closer to the wall.
The door on this Scotsman ice maker is reversible, and can be made to swing left or right.
Scotsman is an industry leader and long-established brand in ice machines.
This Scotsman model is Energy Star rated. It's actually a commercial machine that's small enough for residential use. All this in a very handsomely designed stainless steel exterior. Have a look at it here.
A Dealbreaker for You?..
You'll need a drain line. I am told that if you're handy, installation is straightforward (I am not this handy). Otherwise, check with your plumber for an estimate on the setup.
Water supply lines are not included, and must be purchased separately. Stainless steel flex or reinforced PVC can be used, but one-quarter inch (outside diameter) copper tubing is recommended.
A filter is optional but recommended for hard water or well water.
There is no interior lighting.
The door is stainless steel, and cannot accept a custom panel to match existing cabinetry.
This ice maker is not designed to fit on a tabletop. It's a front-ventilated, under-counter unit.
Many reviewers complained of noise, but this is really a personal thing. The unit is air-cooled, so the fan will make some noise. Cubes falling into the storage bin will make noise. Set it up in a garage, workshop, pool house, or covered patio if it isn't too hot in there and you're bothered by noise.
I am not crazy about gourmet ice for smoothies and protein shakes—-unless you've got a powerful mixer or blender.
Cleaning & Maintaining
The user-friendly control panel alerts of cleaning reminders. But Scotsman recommends maintenance every six months with the following process:
Wipe down the outside cabinet and door.
Wipe and disinfect the ice storage bin.
Vacuum the tubes and fins of the condenser, taking care NOT TO DENT the fins.
Wash the ice scoop as you would any other food serving utensil.
Remove the mineral scale buildup from the system by pouring Scotsman's Clear-1 Ice Machine Cleaner into the reservoir. Then flushing with water On this machine, accessing the reservoir is super easy—no panels to remove. The reservoir is above the ice storage bin.
Here is a link to the Service Manual. The cleaning process is explained on pages 15 and 16. And here's a link to the Scotsman gourmet ice machine product page, with additional specs and details.
SUMMARY – The Key Takeaways
Volume and Versatility – This machine makes clean, clear ice, and LOTS of it! Its odorless, taste-free, and slow-melting qualities make it ideal for serving Scotch, Bourbon, whiskey, and other spirits. But it's an excellent all-around ice for everyday needs and Holiday entertaining. I find it less than ideal for whipping up shakes and smoothies, but if you've got a powerful blender, gourmet ice could work perfectly well there, too.
A Quick 10-Point Table of Basic Features
Scotsman Gourmet Ice Maker
1
Great for Scotch, Bourbon, craft spirits,
cocktails, sodas, iced tea, lemonade,
champagne buckets, punch bowls, first aid
2
Clear, clean, odorless, taste-free, slow-melting
gourmet ice, in a top-hat shape
3
Built-in pump comes installed
4
Energy Star rated
5
Small commercial machine
6
Approved for outdoor use
7
Built-in only, designed to fit under counter
8
Requires cleaning every 6 months
9
Supply lines not included
Also requires a drain
10
15W x 22D x 35H inches