If you still haven't gotten one of these hanging egg-chairs, you're really missing out. Their gentle swaying and cocoon-like designs soften the worries of the day.
So this may sound counterintuitive, but carving out a little corner for a hanging chair could be part of a good, overall "Holiday readiness" strategy.
Are Hanging Egg Chairs Comfortable?
A resounding YES to that one! Load them up with pillows and chunky knit throws. Curl up and read. Nap. Stretch out and sway. They become like your own secret hideaway.
Stressed about planning your Holiday meal menus? Set a timer on your iPhone, and snuggle into your hanging chair with a favorite cookbook and a warm blanket. Ditch that notepad and just look at the pictures. All will be well..!
And twenty minutes of doing absolutely nothing but being suspended in your swing chair can soothe your body, calm your mind, and help restore your focus.
That said, I've spent weeks anxiously looking to replace the old swing chair we gave to my niece for her college apartment. She's always loved it, and we want her to be comfortable away from home. But I do have some positively beautiful new finds I want to share with you below. So please, don't dash off and go shopping without first taking advantage of my groundwork.
Let's start with a question several people asked when they saw our hanging egg chair…
How Much Weight Can a Hanging Chair Take?
The chairs reviewed in this post have a weight limit of between 250 and 265 lbs. Or between 113 and 120 kg. Please refer to line 7 of the table below for specifics.
– THE HANGING EGG CHAIR REVIEWS –
WHAT'S NOTEWORTHY
USE OUTDOORS or INDOORS.
DURABLE SYNTHETIC WOVEN WICKER.
WEATHER AND UV RESISTANT.
WEIGHT LIMIT of 265 lbs or 120 kg.
NO STAND INCLUDED.
STEEL HANGING CHAIN INCLUDED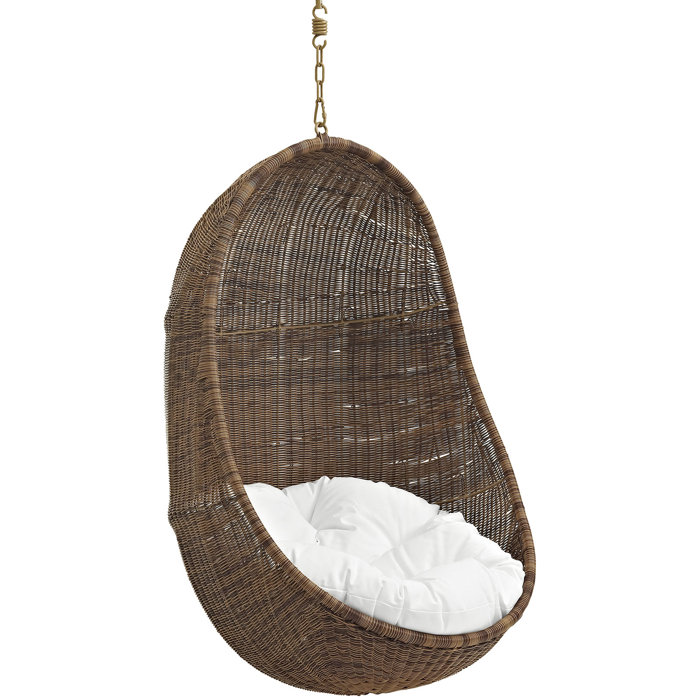 WHAT I LOVE
The Skelmersdale is my top pick for a chic and simple hanging egg-chair. It's visually straightforward—often a plus in small spaces—but with well-turned curves. I love the classic, dark brown wicker with the crisp white cushion. This will be your go-to chair when you finally arrive home after a long, busy day. Unless someone's gotten home before you.
Comes with a generously-sized, poly/foam cushion that is detachable from the chair. The cushion cover is removable for washing. Yes, it's white, but it's 100% polyester, so it will repel water-based spills, and hold up to MANY washings.
Two hanging on the front porch would be a simple but high-impact style update.
And your Holiday houseguests, after battling the hordes and the indignité of the airport, will thank you for having one tucked into a corner of their guest room.
The Skelmersdale is THE perfect hanging egg-chair if you want a straightforward but elegant look that gives you many styling options.
A reviewer posted a photo of the chair with plaid throw-pillows and hanging near a fireplace. What a blissful idea for wintertime reading!
And speaking of reading nooks, a hanging chair—whether it's near your outdoor chiminea, or in a quiet corner of your study—will take up less floor-space than a chaise longue or an ottoman.
DESIGN NOTE: The Skelmersdale is an absolute design classic. You can see a VERY similar chair here, handmade in natural rattan, that costs thousands of dollars more.
A 78.5-inch steel hanging chain is included with the Skelmersdale.
Chair dimensions are 34" W x 27" D x 49.5" H
A dealbreaker for you..?
This is a single chair—as opposed to a double, or a chair "for two"—and its weight limit is 265 lbs or 120 kg.
The wicker is a durable, weather-resistant synthetic. I have neighbors who don't like synthetic wicker for indoor or covered outdoor use, despite the fact that it has become so popular and so natural-looking. I never hesitate to buy it if the overall quality is good. But I'm making note of it here again, just in case you do.
This chair does not come with a stand. You'll have to figure out how to hang it from the steel chain that's included. Or call your carpenter. Or go check out the Weller Swing Chair with Stand below.
UPDATE! GET THIS ONE WHILE YOU CAN. Pier1 announced a Chapter 11 bankruptcy filing on May 19, 2020. They intend to keep their website up and running as long as there is inventory. Sadly, all physical stores will be closing.
What's Noteworthy
USE OUTDOORS or INDOORS
Wrought iron Swingasan Stand SOLD SEPARATELY from Pier 1
WEATHER RESISTANT HANDWOVEN SYNTHETIC WICKER
CHAIN FOR CEILING-MOUNT INSTALLATION NOT INCLUDED
STAND NOT INCLUDED
CUSHION NOT INCLUDED
WHAT I LOVE
I adore fretwork. And the delicate, hand woven, star-like pattern on the back of the Luna Star chair reminds me of beautiful fretwork, rendered in gorgeous pale cream-colored wicker. This is a hard-to-find color in wicker hanging chairs.
I swung by a local Pier 1 and am so glad that I did. In person, you can see that this chair is truly a standout in a sea of choices. The frame feels sturdy and the details are simply delightful.
It's also open and airy, with the densest weave being on the seat and overhead, for comfort and protection on sunny afternoons. Using an open or see-through design element is an old trick to prevent a small space from looking cluttered. And it works!
The Luna Star's thoughtful details even include side compartments to hold your frosty sodas and frothy lattes. So there's no need to try grabbing your drink from the side table as you go swinging by!
The Luna Star is a beautiful hanging wicker chair for your patio, porch, or sunroom. It's also an excellent choice if your interior space needs a fresh, light, neutral color or an Asian style-note.
The powder coated, wrought iron Swingasan Stand for the Luna Star chair is sold separately by Pier 1. It's currently available in 4 colors.
Chair dimensions are 33.5″W x 21.5″D x 44.5″H
Weight limit is 250 lbs or 113 kg.
This is a gorgeous swing chair. Don't miss out on it, as Pier1, sadly, has filed for bankruptcy. Their website will remain up and running for as long as there is still inventory. Check for updated details on shipping and pick-up options.
A dealbreaker for you..?
You'll have to buy the stand separately (see above), and if you go with a ceiling mount, you'll have to purchase a chain.
Remember that a seat cushion is NOT included with the Luna Star chair or the Swingasan stand.
This is a single chair, not a chair "for two." And although the chair tilts back slightly in its stand, the back of the chair itself is straight, not curved.
Here is a link to the Assembly Instructions in both English and French. The French begins on page 5.
WHAT'S NOTEWORTHY
WEATHER-RESISTANT SYNTHETIC WICKER/RATTAN
DESIGNED FOR USE OUTDOORS, SUITABLE FOR USE INDOORS
POWDER-COATED ALUMINUM STAND INCLUDED
CUSHIONS INCLUDED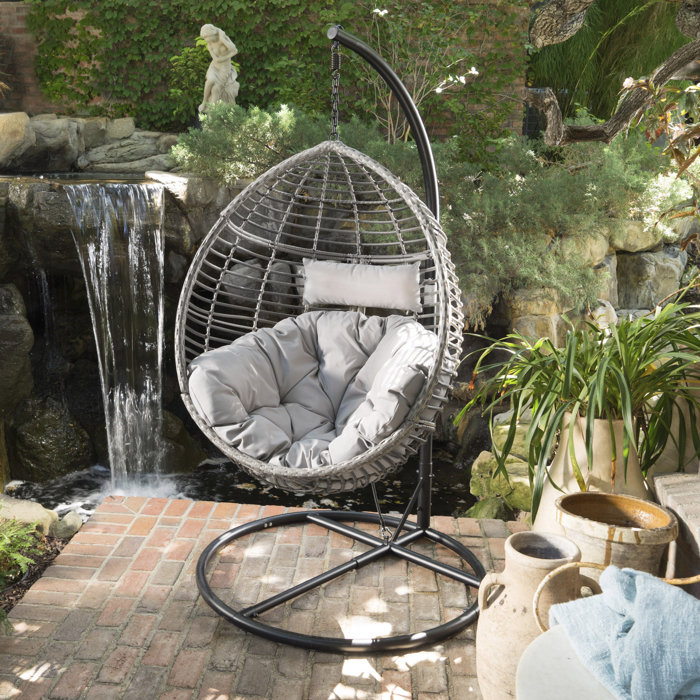 WHAT I LOVE
The Weller is a bold, beautiful, weathered grey, classic-style, swing chair. Clean, dark lines that will pop against a light-colored backdrop, or disappear into a moodier one. I absolutely LOVE this chair!
Cast aluminum, powder-coated stand is included.
A cord to stabilize the chair is included, making this an excellent choice if you actually don't want TOO much swinging for whatever reason—a disability, small children, pets, etc.
Grey cushions are included. The headrest cushion has fabric ties that secure it to the chair. The seat cushion has "tufting" which give it a more finished look.
The chair itself is 37.75 W x 26.5 D x 47.25 H (in inches).
Seat height is 19 inches from the floor.
Overall dimensions with the stand are: 44 W x 44 D x 79.5 H (in inches).
Weight limit is 250 lbs or 113 kg.
The Weller is an excellent choice if you want a hanging swing chair that comes with a stand, stabilizer, and cushions. All in a sleek, open, statement-making design and sophisticated neutral colors.
A dealbreaker for you..?
The covers on the cushions are not removable. Spot cleaning, hand washing, and line drying are recommended.
This is a single chair, not a chair "for two."
And in spite of "Wicker Basket" being part of its name, the Weller's wicker/rattan is a durable, weather-resistant, synthetic material. Not natural wicker.
I'd recommend two people for assembly. It's moderately challenging.
Here's a link to Assembly Instructions for the Weller chair and stand. If you're anything like me, you'll want to have a look at them ahead of time, so you can gather up tools and "enlist" help you might need.
SUMMARY – A Quick Wrap-Up
I have but one caveat if you're shopping for a hanging chair and have made it this far. I often think they're unsuitable for a household with toddlers, babies, or pets. But you be the judge here.
And since we're all super-busy as the Holiday Season approaches, I made a handy 10-point "cheat sheet" for you below. The dimensions listed in rows 9 and 10 are for the chair only. I really hope this helps. And I hope you find a chair that you absolutely LOVE!
10-Point Table of Comparison
| | Skelmersdale Chair | Luna Star Chair | Weller Chair |
| --- | --- | --- | --- |
| 1 | Stand not included | Stand sold separately | Stand included |
| 2 | Indoor/Outdoor | Indoor/Outdoor | Indoor/Outdoor |
| 3 | Dark brown, tightly woven, synthetic wicker | Ivory/Cream, variably woven, synthetic wicker | Weatherd grey synthetic rattan |
| 4 | Simple, straightforward, versatile design | Intricate, hand woven, star-like pattern. Side pockets to hold drinks. | Bold, clean, statement-making design |
| 5 | White cushion included | No cushion included | Grey cushions included |
| 6 | N/A | Stabilizing cord included with Swingasan Stand, which must be purchased separately | Stand and stabilizing cord included |
| 7 | Weight limit 265 lbs or 120 kg | Weight limit 250 lbs or 113 kg | Weight limit 250 lb or 113 kg |
| 8 | Weather resistant | Weather resistant | Weather resistant |
| 9 | 34″W x 27″D x 49.5″H | 33.5″W x 21.5″D x 44.5″H | 37.75″W x 26.5″D x 47.25″H |
| 10 | 86cm W x 68.5cm D x 125.7cm H | 85cm W x 54.5cm D x 113cm H | 95.8cm W x 67.3cm D x 120cm H |
| | Skelmersdale Chair | Luna Star Chair | Weller Chair |
Very best to all of you this Holiday Season!—
Mari