I Am a Map Nerd
I have always loved maps. As a child, my family had oversized travel atlases, fishing maps, map puzzles, auto club TripTiks, and (my fave) a raised-relief globe on a walnut stand with a brass semi-meridian.
My father, an engineer, was always unwinding huge land survey maps on the kitchen table. Or, more intriguing still, very old maps of "uncharted" woodland areas. I even have a book titled, The Atlas of Atlases.
These days, of course, people can text you a Google Map that will talk you all the way to your driving destination. And a $200 off-season fare with a no-frills airline will take you places Google Maps hasn't found. Still, I miss the sense of self-reliance, imagination, and expansiveness that came with the paper versions.
Why Put Maps on Walls??
As summer arrives, I'm ready to enliven the stale, out of control, so-called gallery wall in my studio with a bold, clean, style statement.
I see map murals and map wallpapers EVERYWHERE lately—in little bespoke shops, huge home stores, wedding venues, and children's stores. So, happily, maps are trending. And yet, they are timeless. In my house, that's the perfect room edit.
When Making a Big Splash in a Room, Make It a Good One
I did over two weeks of research for this project. I truly LOVED every second of it. But even for a map nerd like me, there's an awful lot out there. And, yikes, it's not all good.
My décor manifesto includes walking away from "shiny objects" of dubious quality for the following reasons:
In the long run, it makes good economic sense.
In a small space, especially one with a minimalist style, good quality is one of the keys to "getting it right."
In a small space, nearly all design elements are in sharp focus, so something of poor quality tends to stand out. And not in a good way.
There are exceptions, of course. Those rare closeout finds or that quirky estate-sale piece. But in general, buying better quality will give your room both polish and a look of stability.

The Map Reviews
So here is what I found in my research. A couple of excellent map mural suppliers. A beautiful mid-century style map from a favorite retailer. And a very good-looking, low-cost option. Let's go look at some maps! And I'll tell you which one I went with.
WHAT'S NOTEWORTHY
Antique style that is neither heavy-handed nor frumpy
Custom sizes AND custom color tweaks are available
Protective top coat available for $2/square foot—-something to consider for kitchens or high-traffic areas
Rush service and samples are available
Free standard shipping. 100% No-Risk Return Policy
What I Love
If you're a little apprehensive about splashing a huge map on an entire wall, then have a look at the Malte-Brun World Map. It has barely-there colors—-which you can tweak—-and a beautiful linear quality.
The Standard Fabric and Premium Canvas options have textured finishes and are peel-and-stick (no paste required). Many frustrating weekends spent hanging wallpaper prompt me to recommend peel-and-stick options. The Premium Canvas is like an artist's canvas. It's 20 mil thick1, and made of woven polyester for durability. You can order a sample on their website.
The Paper and Vinyl options have a smooth, matte finish but they are non-adhesive and require paste. Maybe you're feeling fearless or you've got the paste technique down. Or you could hire a pro. No shame in that.
Rush service is available. Free standard shipping.
Excellent customer service. 100% No-Risk Return Policy.
You can "Black & White" your map for free if you find something you like but want a neutral look. You can also make small color changes—-for example, to the background of this map—-upon request.
This world map is perfect if you need a simple, light-handed way to invigorate the look of a space, while keeping the mood quiet or balancing more modern elements.
The Malte-Brun World Map really works well with a wide range of décor styles: Industrial, Modern Rustic, Modern Trad, Eclectic, Vintage Chic, Farmhouse, Boho, and more.
And it might be a thoughtful gift for the history lover in your family—install a peel-and-stick option for them and have the "reveal" at a surprise party.
Use their live Chat feature, I found them to be very responsive. Lots of murals, lots of options, premium quality.
AUTHOR'S NOTE: Be sure to check out their Removable Wallpaper Wall Murals for your other design projects. This is an affordable alternative to traditional wallpaper. Backed with a self-adhesive, they're a cinch to install, remove, and re-use. Custom colors can be matched. Scale can be adjusted. Gotta love this stuff!
A dealbreaker for you?..
It's possible to install on your own, but easier if you have someone to help you. Especially if you're going with a heavy wallpaper option—which can tear under its own weight if not supported by another pair of hands. As far as I can tell, Limitless Walls ships from North Carolina, and only to the U.S. and Canada.
NOTE: The names and legends on this map are in French—for all you Francophiles and Quebecois out there! Otherwise, take a spin around their site—-you'll be amazed by what they have. Their options really do seem limitless.
My only complaint with the website is that you can't enlarge images from a mural's specific listing. However, from a Search Results page, you can hover over a thumbnail and then click on View Larger.
MEASUREMENTS: SMALL: 6 feet 10 inches x 5 feet 3 inches. MEDIUM: 9 feet x 6 feet 11 inches. LARGE: 11 feet 2 inches x 8 feet 7 inches. CUSTOM SIZES AVAILABLE.
***AUTHOR'S NOTE: If your map will cover an entire wall, be sure to click the YES button under Options when ordering, and they will extend the map by an inch to give you some installation "wiggle room."

In case a fellow map nerd so happens to land on this post, the Mercator's Projection was rolled out by a Flemish cartographer in 1569. His name was Gerardus Mercator. His technique was favored for navigation charts because it allowed the navigator to chart a straight-line course without the need for course correction. (Oh, if only.) This was achieved at the cost of distorting land masses farthest away from the Equator—like Antarctica and Greenland—making them look too big.2 Now I ask you, how could this map not rescue your next awkward cocktail party moment?!?
WHAT'S NOTEWORTHY
Classic map with mid-century style colors and fonts.  A bright, beautiful welcome to your child's room.
Contains up-to-date names of countries, cities, national capitals, and geographic features.  Will engage and enrich your child for years to come.
Peel-and-stick fabric resists tears, water, wrinkles and bubbling.  It's (almost) child-proof. 
NOTE: The peel-and-stick option is NOT RECOMMENDED for use over a crib.
Will not damage walls or leave residue.  An excellent option for apartment dwellers!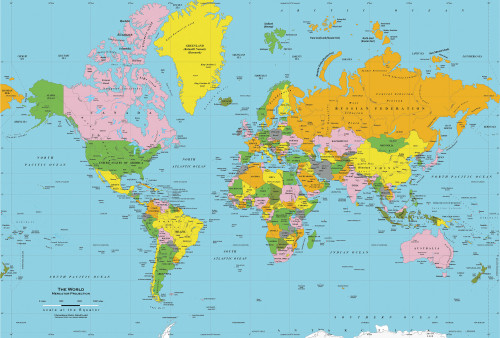 What I Love
Both stylish and educational, the Classic Colors map can work beautifully with either modern or vintage décor.
It's an excellent choice if you want to design your child's (or any) space with lots of color and a nod to mid-mod.
A reviewer mentioned that the map was very easily installed in an elementary school with the help of one other person and two ladders. They hung the middle panel first and then matched up the side panels.
It's hard to go wrong with a map that's so classic. If you only have time to look at one map for your child's room, this is it.
IMPORTANT SAFETY PRECAUTION: PEEL-AND-STICK OPTIONS ARE NOT RECOMMENDED FOR USE OVER A CRIB.
A dealbreaker for you?..
The colors are described as pastel and distressed, but my sister-in-law ordered the very same three-panel, 125 x 84-inch configuration, and says that the colors are bright and very beautiful. So if you're looking for something soft and pastel-y, this isn't the map for you. But this one below might be.
MEASUREMENTS: 125 inches W x 84 inches H. Available in 6 other sizes.
AUTHOR'S NOTE To clear up any potential confusion with the Decal vs. Mural options for the Classic Colors 3-Panel World Map from Houzz:
Single-panel, peel-and-stick maps in smaller sizes (up to around 60 inches x 40 inches) are referred to as "Decals," though they're printed on a finely textured, canvas-like material. They're like a sticky poster.
The larger single-panel maps AND the huge multi-panel maps are referred to as "Murals." They're also peel-and-stick.
Choose the size you want in the first drop-down box and the appropriate panel configuration will appear.
WHAT'S NOTEWORTHY
Slightly over 12-ft 1-in LENGTH x 8-ft 2-in WIDTH
No adhesive backing. Requires paste (not included)
Labeled with countless place names (cities, geographical features etc.)
Non-woven material with semi-gloss finish
Made in Germany (printed in English)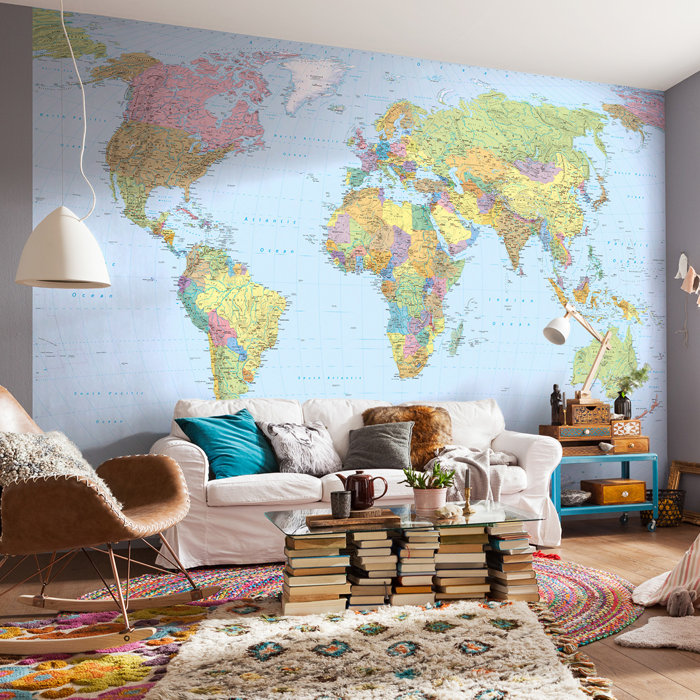 What I Love
This is an amazingly beautiful map mural for the price. Very generously sized at over 8 feet x 12 feet. Perfect for a living room, office, or playroom. I love the rich but not-too-bold colors. Chock-full of place names, making this the perfect map mural for young families.
Map includes depiction of the Hawaiian Islands.
The Wolfeboro map mural consists of four separate panels.
A dealbreaker for you..?
This map mural must be installed on a smooth wall—-no textured finishes. Texture is easily sanded smooth, though there is a little cleanup to do afterwards.
Wallpaper paste cannot be used. The recommended paste is cellulose paste or wheat adhesive.
Not suitable for use outdoors.
MEASUREMENTS: Just over 12-ft 1-in LENGTH x 8-ft 2-in WIDTH
WHAT'S NOTEWORTHY
Subtle, sophisticated colors in a continental-view map
Custom sizes available.
Five different options for material, including one that can be used outdoors.
8 x 10-inch custom sample available
Rush orders available. Free standard shipping in contiguous U.S.
100% No-Risk Return Policy (See their Love It Guarantee).
What I Love
I can't think of a space where this map wouldn't look positively beautiful. Kitchen, beach house, bedroom, entryway or stair landing. Powder room, workshop, library or study. The colors are subtle and "soft on the eye," making it very easy to engage with. It can work with a range of décor styles, as well.
AUTHOR'S NOTE: An 8 x 10-inch custom sample is available in the U.S. for $10. So in case you're anxious about purchasing, you can check out the actual colors and material beforehand, And use the $10 as a credit toward future purchase.
My samples arrived with the full image scaled down to an 8 x 10-inch sample size. There's also a watermark, so they're not really suitable for framing. A business card with the name of an account manager was included in the folder, which I thought was a nice touch.
Love the map? But the colors, not so much? You have the option to "Black & White" your map.
You can also personalize it, by choosing a font style, color, size, and location of the text for $25. This is a thoughtful and charming option for a child's room!
This is the right choice for you if you love a classic look in softer colors that doesn't tip toward vintage or antique in style. A fair compromise.  Lots of gentle, airy, ocean blues.  The greens are muted and almost neutral.  Aren't you a tad curious by now?  Go on and at least have a look at it here.
A dealbreaker for you?..
Murals Your Way does not recommend SmartStick—-their peel-and-stick option—-for children's rooms and other high traffic areas. I might consider a way to get this accomplished anyhow, by using small nails (or other) to securely tack the corners of the panels once they're in place. But I did want to mention it, in case you don't have the time or the inclination for anything other than peel, stick, forget. I get it, oh, I do.
AUTHOR'S NOTE: Murals Your Way offers five basic options for material on which you can print a mural. Additionally, they offer window films, and canvas wraps, commercial grade materials.
I'll give you a quick rundown on the five basic options to save you some time, and if you want more information, click here to go to the Murals Your Way Materials Page.
Eco-Bella Texture has a light texture and matte finish, and requires paste to install. Good for slightly textured walls. Durable, but not recommended for use outdoors.
Pre-Pasted Wallpaper has a smooth texture and matte finish, with a water-activated adhesive backing—use a little spray bottle for installation. Smooth walls are best for this option. Durable, but not recommended for use outdoors.
SmartStick has a smooth texture and matte finish, with peel-and-stick backing. Requires smooth walls—no textures or flat paint finishes. Not recommended for use outdoors or in children's rooms and high traffic areas. NOT recommended to hang over a crib.
Vinyl HD Texture has a textured surface and a matte finish. Requires heavy-duty paste to install. Recommended for slightly textured walls. NOT recommended for use outdoors.
VersaGrip Indoor/Outdoor has a rough surface texture and strong adhesive that adheres to concrete and brick. It can be used on walls or floors, but is NOT recommended for drywall. Extremely durable. Can be used outdoors.
A QUICK SUMMARY
Map murals can be a classic, creative, or quirky solution to your big-empty-wall décor dilemma.
On the plus side, you won't have to spend Saturday morning at the frame shop, or browse endlessly online comparing mats, frames, and artwork. Though you certainly can hang artwork on your map wall.
Maps are timeless, stylish, and design-worthy. They're also great teaching tools, and make perfect gifts and conversation starters.
There are so many options! So start looking around for inspiration, and get big and bold with your small space.
RE-CAP OF THE MAPS WE'VE LOOKED AT
DON'T SKIP THIS SECTION, PLEASE! – Pre-Purchase Considerations
HERE ARE A FEW THINGS TO CONSIDER BEFORE MAKING A DECISION:
What is your viewing distance from wall in relation to the scale of the map? Tight space like a hallway or foyer? Big, busy kitchen? Quiet little reading room? Maybe you want a HUGE visual impact, where the kids can read place names from across the room? Or just something quiet but present in the background? So be sure to keep scale in mind during your decision-making process.
Shopping Tip #1: In my research, I saw several maps in French, Italian, and German—the Germans were big into cartography in the 15th and 16th centuries. Item descriptions did NOT always indicate the language. So if it's English names and map legends that you want., enlarge the image to double-check, or use the Chat feature to find out before ordering
Shopping Tip #2: If you can, right click on the map image and select View Image. This will allow you to view the image on a black background (and possibly larger) without all the clutter on the website.
Consider whether you want to hang the map as wallpaper with paste, or whether you prefer a peel-and-stick option. Is there someone to help you with installation? Can you hire someone?
The surface of your wall is a very important consideration. Peel-and-stick options generally require a smooth or lightly textured wall, and no flat paint finishes. Most of us have slightly textured walls, whether plaster or drywall, so you may have to sand it down and clean the dust off of it afterwards. Prep work is sometimes frustrating—you just want to get the fun part going. But it's worth the effort for best possible results.
If you paint with a semi-gloss after sanding and cleaning, you'll need to let it dry for several days so the chemicals in the paint will finish curing. If you have specific questions, I had very good luck using the Chat feature on the Limitless Walls site. Murals Your Way picked up the phone on the second ring. In the meantime, click here for in-depth information on preparing your walls from Murals Your Way.
If you're still in the decision-making phase, click here for detailed information on measuring for a mural.
And just in case you missed this point above, peel-and-stick options are NOT RECOMMENDED for use over a crib.
So if you're ready to ditch your current décor doldrums, and imbue the look of a tired space with some worldly character, consider how a map mural might work for you. And if you're staying put this travel season, remember that it's a far less expensive way to see the world.
Journey well,
Mari
REFERENCES
A "mil" refers to 1/1000 of an inch. It's used to measure the thickness of sheeting. So poly canvas that is 20 mil thick is about .5 millimeters or .02 inches thick.